Online Accountants Nottingham
As Online Accountants specializing in the use of Xero and QuickBooks accounting software we are able to work on your accounts in real-time. There's no waiting around for the postman to deliver boxes full of paperwork to us, your accounts are already at our fingertips - we can access and update your key financial data remotely. You can also access your data online (24/7) from your devices, deal with invoicing or purchasing, make other changes or see how your business is progressing via your company dashboard. As well as these benefits, you'll also have your own space on our secure online portal where we can exchange sensitive data securely with each other. For example, you'll be able to sign documents, and communicate with us making the whole accounting process effective and efficient.
Worlds No1
Accounting software
Online Accountants Nottingham
We've done all the hard work, we've tested out lots of products on the market and as a result you will be benefiting from the world's best online accounting software.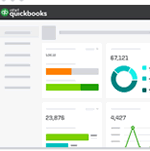 Auto Bank-Feed
Transactions straight into your accounts
With the bank-feed feature all your transactions can be dealt with as often as you like. They can then be added to your accounts or matched to existing invoices or bills. Your bank balances are displayed on your dashboard so you always know where you are!

Mobile App!
Access your data 24/7
Online Accountants Nottingham
Connect to your accounts on the go! Snap 'N' Sort receipts using your device's camera, issue estimates & invoices, check the bank, check who owes you money and lots more, anywhere 24/7 from your mobile device.

PAYE
Processing payroll & CIS
Run payroll, track employee time and keep track of your CIS too!

Invoice On The Go
Send quotes and invoices from your mobile
Wow your customers! No need to wait until you are back in the office; send them an instant quote or invoice straight from your mobile device.
Save & Send
Track invoices and get paid on time!
Once invoiced, the system will tell you when your invoice has been sent and when your customer has viewed it. Everytime you update an invoice your customer will be notified too! Set up customer direct debits and automatically collect payment.

A Plan For You
Subscriptions to suit everyone
It doesn't matter how big or small your business! Whether you are Self Employed, a Partnership or a Limited Company we will have a subscription plan to suit your needs.

Efficiency
So much quicker
Saving you hours of processing time that you could be spending with those you love.
Peace Of Mind
We're only a click away
As your online accountants we will always be just a click away. If it's a software support issue or an accounting query we will be there to support you.
Grace and Phil have submitted my tax return and done my accounts for a number of years but the transition to QuickBooks Online has made it much easier for me to keep on top of things as I go. Phil seems to have endless patience in explaining how I input something different in or finding out for me how I can do it in the QB app rather than online.
QuickBooks Certified ProAdvisors
Why QuickBooks Online?
_______________________________________________________
Expenses –  Snap and sort receipts

VAT – calculate and file VAT

Construction – manage CIS deductions
PAYE–  run payroll (small charge per employee)

Simple Banking – download your transactions straight into QuickBooks
Foreign– multi currency support
User friendly – an intuitive & efficient system
Peace of mind – Don't worry, we're simply a click away
ONLINE ACCOUNTANTS NOTTINGHAM

Regular online bookkeeping service to keep your records up to date.

Mobile – 24/7 access to your data from any device.

Statutory Accounts preparation  and submission service.

VAT Returns completed and filed with HMRC.

Self Assessment Tax Returns for Sole Traders and Partnerships.
Corporation Tax Return service for Limited companies.

Payroll – Regular payroll processing and reporting.

Credit Control service – improving your cashflow situation.

Management Accounts – helping you make the right financial decisions.

Free Telephone Support service for our clients.