For those of you who may not know, I own a narrowboat on which I spend as much time as I can cruising the rivers Soar and Trent.
There's nothing quite like taking to the water and parking up (I figure I'm allowed to say parking up as I am a real live boater) for the evening outside a waterfront pub or next to a field full of cows. Even a journey as short as 15 minutes can completely change your outlook and deliver a lovely new garden view to wake up to the next morning.
Why am I telling you this I can hear all you land lubbers asking!
Well, I'll try and make it as sexy as I can…
"Here comes the science bit…"
Narrow boats have an inboard motor to drive the propeller at the end of the shaft which propels the boat forwards or backwards depending on which gear you are in.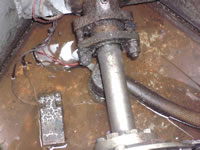 A bit like a prop shaft on a car, this shaft has to be free enough to revolve as it goes through the sheet steel in the back of the boat to turn the propeller. Being both free enough to move and sitting below the water line means that unwanted river water gets in through the hull, and sits in the floor (the bilge) at the back of the boat.
When the water level gets too high a pump will kick in and send the water back into the river where it belongs.
The slow leakage process is slowed down by a stern gland: essentially a small pipe packed with grease which has to be manually pumped down to the shaft. The grease helps the prop shaft to move freely and also helps to keep the water out.

If the stern gland isn't used or kept filled with grease, or if the bilge pump stops working, then there is a real danger that the boat could gradually fill up with river water and SINK!
It's really important that this part of the boat is checked and maintained regularly.
Businesses need to carry out checks and regular maintenance too!
Tasks such as proper bookkeeping and thorough records checks  are so important in the fight to stop your business taking on water.
If you are a new business that's just about to be launched, make sure that you have a stern gland and bilge pump (a reliable, regular bookkeeper/accountant) fitted before you enter the water. Likewise if you are an established business, make sure that this constant maintenance is in place and is being carried out.
In all cases try and find a bookkeeper/accountant who has a love of boats and who will help you carry out this maintenance reliably and safely!
Now ask yourself the question… "Is your business taking on water?"