T
his morning I decided to clear come space in the office and came across Accounting Technician issue Jan/Feb 2011. I'm terrible at decluttering – as soon as I have something old AND printed in my hand I have to read it. This doesn't hold true for the new magazines – they get put down unread! Anyway, I opened it up thinking "It's from 2011 – how much of the contents will still be relevant today?"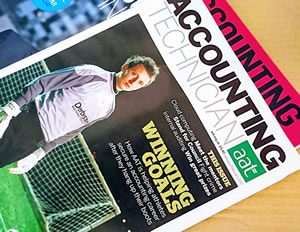 And there it was: "Head into the Cloud", an article about cloud computing. It's quite funny to read it now and realise how significantly things have moved on.
Accountants are a traditional lot on the whole. We do use computers, and some of us are absolute whizzes with Excel, but we like pieces of paper we can hold in our hand. Personally, I still use paper when it suits me, but I'm also trying to embrace the world of technology. Back in the 70s our primary school purchased a single PC for the use of the pupils, a large and cumbersome article enthroned on a special trolley to be wheeled out like the Queen at the state opening of parliament, not quite with a fanfare from liveried heralds, but you get the idea… I was not quite as impressed as some of my peers as my computer engineer father often brought computers home from work, frequently removing the cover to tinker with the inner workings.
Back in 2011 accountants concerns about cloud computing mostly revolved around the security of data (we have the need for confidentiality seared onto our brains from very early on) but this is really due to false perception, the kind of perception that inflates some risks but reduces others. For example, I am perfectly happy to get in my car and drive all over the place, frequently at high speed, but am rendered almost immobile when faced with a sheer drop of more than 30 feet despite umpteen safety measures. The fact is that the IT security measures a small company can come up with alone are vastly inferior to those provided by dedicated cloud providers – it's time to stop using this as an excuse.
According to the AAT article, the acid test is whether you are happy to bank online. If you are you're probably ready for cloud accounting too.
Is your head in the cloud?
We've been using it for a while and are now working with QuickBooks Online for our bookkeeping. If you're still using desktop accounting, or even ledgers, have a look at  our page and, if you're interested, give Phil a call and he'll be happy to talk.